FOUR DECADES OF HORTICULTURAL
EXCELLENCE AND INNOVATION
Established in 1981, Growers Transplanting, Inc. celebrates  40 years of industry leadership. What started as a 400,000 square foot operation, GTI has expanded into one of the largest nursery and field operations in the US. Today, GTI has over 5.5 million square feet of fully inclusive vegetable and fruit producing greenhouses – and growing. GTI was the first to develop automated transplanting technology unique to the industry and continues to develop proprietary operational technologies to drive efficiencies, enhance quality, food safety and environmental impact. GTI continues to diversify into value added segments including grafting, propagation, and strawberry misted tip production among others.
GTI continues its leadership in greenhouse, transplanting and operations technology. As one of the most technologically advanced field operations in the US, we are a partner who can lead you through the entire process of growing, shipping and transplanting by developing solution driven processes that caters to individual agricultural needs. GTI can help you reach your goals with the assurance and expertise you would expect from a company who has been in business for 40 years.
1981
FOUNDED
Growers Transplanting, Inc. established. GTI becomes the first vegetable-producing greenhouse to have a field/transplanting department, giving the company expertise on both nursery and field operations
1982
LEADING INNOVATION
GTI becomes the first to implement automated transplanting machinery in the field and remains the only automatic transplanting system available for year round production in California and surrounding states
1990
GREENHOUSE FIRSTS
Woodland, CA
GTI becomes first greenhouse to transplant processing tomatoes
2003
BUSINESS HEATS UP
GTI installs 3.9 million square feet of under-bench heating systems in the greenhouse areas; becomes first in industry to use this technology
2004
ORGANIC DEDICATION
Salinas, CA
GTI purchases additional 40 acres and dedicates entire property solely to organic production
2008
WELCOMING THE AUTOPLANTER
GTI adapts AutoPlanter to use in tomato transplanting; becomes first in industry to use  this technology leading with the autoplanter
2009
IMPROVING THE ONION MARKET
GTI introduces onion transplanting to the market
2010
NCMSDC RECOGNITION
GTI receives Minority Business Enterprise certification by the Northern California Minority Supplier Development Council (NCMSDC)
2011
30 YEARS OF RECOGNITION
GTI celebrates 30 years of continued success, growth and leadership in innovation
2017
PILOT PROGRAMS
GTI begins pilot fruit & vegetable programs alongside new berry category nursery
production
2018
BERRY PRODUCTION
GTI begins commercial production of blackberries, Raspberries and Strawberry starts
2019
MOBILE GRAFTING
GTI introduces first mobile grafting unit equipped with robotic technology, allowing the company to graft throughout any of its 9 California locations & builds its first grafting nursery
2020
COMMERCIAL GROWTH
GTI scales up to commercial production of grated fruits
2021
GREENHOUSE GROWTH
GTI starts construction of new proprietary greenhouses, with a plan to add over 2 million
additional square feet of automated, environmentally controlled greenhouses
2021
GREENHOUSE AUTOMATION
GTI starts pilot production of its new, proprietary greenhouse automation technologies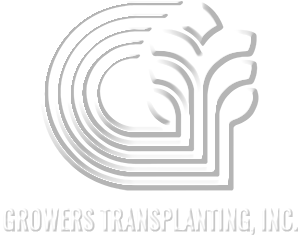 Visit Us
370 Espinosa Road

Salinas, CA 93907
Open Hours
M-F: 7am - 5pm
Sat: 7am - 12pm
Sun: Closed